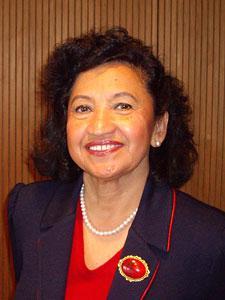 Department of Chicana/o Studies
Specialization
:
Literature, gender, cultural studies, oral traditions, feminist theory, film documentaries, nationalist & ethnic construction theories, theories on aesthetic activism
Bio
:
Maria Herrera-Sobek is Associate Vice Chancellor for Diversity, Equity and Inclusion and Chief Diversity Officer, as well as Professor of Chicana/o Studies at the University of California, Santa Barbara. She was the Luis Leal Endowed Chair during the 1997 – 2009 period. She received her Ph.D. in Hispanic Languages and Literature from UCLA and has taught at UC Irvine, Harvard University, and Stanford University.
Her publications include: The Bracero Experience: Elitelore Versus Folklore; The Mexican Corrido: A Feminist Analysis; Northward Bound: The Mexican Immigrant Experience in Ballad and Song; and Chicano Folklore: A Handbook. She has edited/co-edited the following books: Beyond Stereotypes: A Critical Analysis of Chicana Literature; Chicana Creativity and Criticism; Gender and Print Culture; Reconstructing a Chicano/a Literary Heritage: Hispanic Colonial Literature of the Southwest; Chicana (W)rites: On Word and Film; Saga de México; Culture Across Borders: The Popular Culture of Mexican Immigration; Cultura: Al otro lado de la frontera: Immigración y cultura popular; Recovering the U.S. Hispanic Literary Heritage: Vol. III; Power, Race and Gender in Academe; Santa Barraza: Artist of the Borderlands; Chicano Renaissance; Perspectivas transatlánticas en la literature chicana; and Violence and Transgression in World Minority Literatures. Editor/coeditor of Special Issues including: Journal of American Studies Association, Turkey (JAST); Concentric Journal (Taiwan); Nerter (Canary Islands); American Studies Journal of Germany (2012). Editor, Sandra Cisneros: A Reader (2010). Associate Editor: The Norton Anthology of Latino Literature (2011); Editor: Celebrating Latino Folklore: An Encyclopedia of Cultural Traditions 3 Vols. (2012). Herrera-Sobek has published over 140 scholarly articles and published her poetry in journals and anthologies.